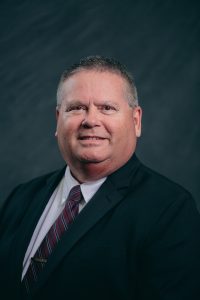 Mayor Schutzbach is a lifelong resident of Effingham. He is married to Crystal and they have two grown sons. He attended both St. Anthony Grade and High Schools, graduating in 1981. Mayor Schutzbach received an Associate in Applied Science Degree in Law Enforcement from Lake Land College in 1983 and a Bachelor of Science Degree in Law Enforcement Administration from Western Illinois University in 1984. He is a graduate of Northwestern School of Police Staff and Command, Northwestern Executive Management Program, and the Federal Bureau of Investigation (FBI) National Academy.
Mayor Schutzbach began his law enforcement career with the City of Effingham Police Department in January of 1986 as a patrol officer after graduation from the University of Illinois Police Training institute with Scholarship Award (highest individual academic record within the class.)  He was later assigned to the detective division with the department. In February of 1995, he was promoted to patrol corporal, sergeant in November of 1996, Deputy Chief in November of 1999, and took the lead position, Chief of Police, in February 2003. Mayor Schutzbach retired from the Effingham Police Department in February 2017.
Mayor Schutzbach served his first term as mayor from 2019 to 2023 and is now serving his second term.  Additionally, he serves as the Commissioner of Public Affairs.
Mayor Schutzbach learned to work hard and efficiently at an early age with his first job as an adolescent delivering newspapers in Effingham; working at the Effingham Country Club at age 12; and then in retail at the Western Auto Store at age 16. Following college, prior to his law enforcement career, he worked in management at a local hotel with duties including customer service, bookkeeping, and payroll.
Mayor Schutzbach's past public safety experiences also include employment as a Court Services Officer, Probation Officer, and Law Enforcement Instructor at Lake Land College. He has served on numerous federal, state, and local boards throughout his professional career.
Mayor Schutzbach leads with an open door policy, focusing on accountability, increasing public safety, and reducing any unnecessary spending within the city. He believes his knowledge, integrity, and true dedication to the citizens of Effingham, coupled with his direct approach while engaging others, qualifies him to lead the City of Effingham as mayor.