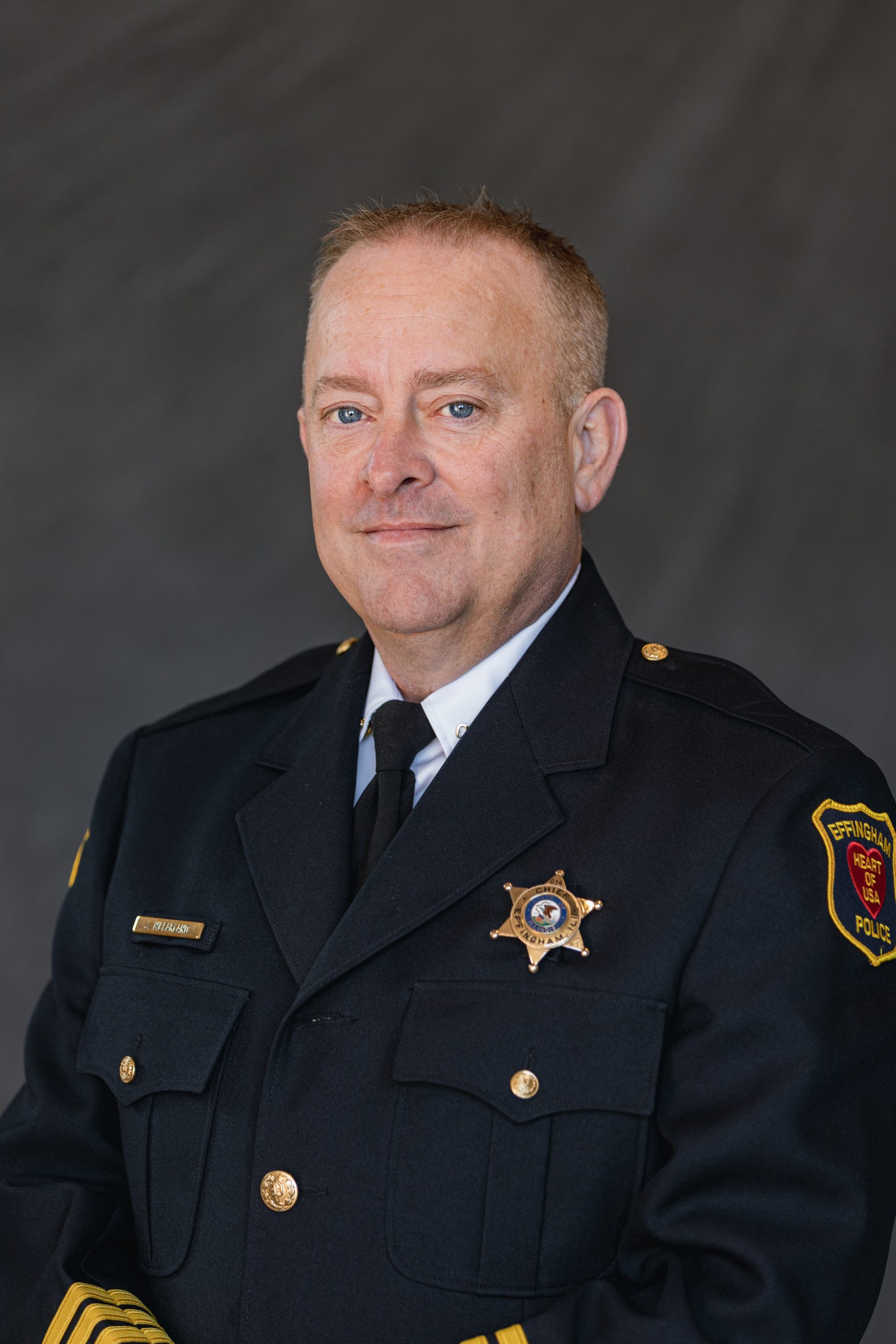 Title
Police Chief
Phone
(217) 347-0774, extension 5331
Effingham Chief of Police Jason McFarland is a fourth generation Police Officer who has served Effingham Police Department for over two decades.  During his career, Chief McFarland has led from every level, seeking to identify emerging trends and employing solutions to combat those developments.  Solutions include developing a fentanyl response plan and obtaining officer-safety equipment, constructing a Recruitment and Retention Board, implementing training for dispatchers for post-traumatic stress disorder, and partnering with addiction experts to create a co-responder model for narcotics-related calls for service.
Chief McFarland began his law enforcement career in 1998 where he served as a Deputy for Cumberland County, Illinois. In 2000, he relocated to Effingham Police Department as a Patrol Officer, where he took on the role of Explorer Advisor, introducing youth to law enforcement activities and encouraging young people to explore a career in law enforcement. In 2003 Chief McFarland was selected to serve in Criminal Investigations, where he actively worked complex criminal investigations at both the state and local level.  As a result of his investigations, he received a Certificate of Appreciation from the Secret Service in 2007 for his work to help to solve a multi-state counterfeiting operation.  Promoted to Sergeant in 2009, he returned to Patrol duties.  In 2011 Chief McFarland attended the FBI National Academy Session #244.  Chief McFarland was promoted to Lieutenant Detective in 2018 where he again served in Criminal Investigations until his promotion to Police Chief in 2019.  In 2020 he was elected by his fellow police chiefs to serve with the Illinois Law Enforcement Alarm System (ILEAS) Board of Governors.  During his career, Chief McFarland has served on Lakeland College Criminal Justice Advisory Board, Mobile Training Unit 15 Advisory Board, Effingham County Emergency Telephone System Board, and maintains a membership in Association of International Chiefs of Police, Illinois Association of Chiefs of Police, Southern Illinois Police Chiefs Association, and FBI National Academy Associates, Inc.
In his current role, Chief McFarland supervises all personnel for Patrol, Criminal Investigations, 911 Communications, and civilian employees. He has made wellness a priority and has invested in his people by creating a Peer Support Group and adding a gym and workout room to the current facility.  Throughout his 22 years of service in the City of Effingham, Chief McFarland has sought innovative ways to improve existing programs and introduce modern technology to better serve the community.
Chief McFarland resides in Effingham County with his wife and family.